06/22/2023
Want More Clients? Do This.
networking tips + convo starters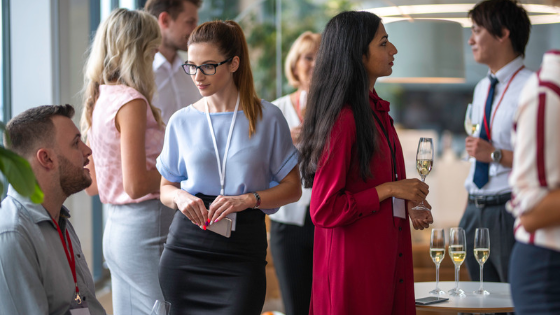 Connecting people with new friends, clients, and opportunities is a superpower that serves the people I care about (you!) well. I love meeting new people, learning what they're great at, and introducing them to someone who needs their expertise.
Networking is important for all of us, but walking into a reception, conference or meeting can be totally intimidating—even for extroverts. So, here's a roundup of the ultimate networking tips to build successful relationships:


Be prepared with a few questions to ask beyond "What do you do?". The goal here is to find commonality, which naturally leads to deeper and more meaningful conversation. Proven winners include:




Where did you grow up?


Where's home for you?


Have any vacations coming up?


What TV shows are you loving right now?


Read anything interesting lately?



Make notes while your memory is fresh. If you've exchanged business cards, review them soon after the event and jot a note or two on the card like where you met, who you want to introduce them to, or any follow-up.



Follow through on any action steps you discussed. Within a few days, email them, let them know how great it was to meet them, and do the thing you said you would (share that podcast or book recommendation, share your services, or connect them with that friend of yours).



Connect on LinkedIn to further maximize the relationship.
How about YOU? Have any networking tips our community needs to know? Share below!