02/11/2020
Six Things Your A/V Company Wants You To Know Before Your Next Event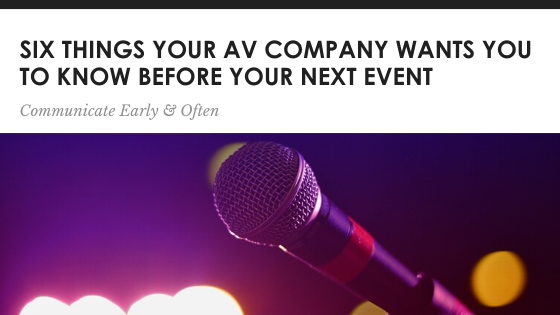 As planners, we rely on our vendor partners to make us shine at our events. The key to building a successful relationship is transparent, frequent communication and getting your audio-visual team locked-in early so they can provide their best pricing and equipment for your event.
Here are 6 things to consider regarding audio-visual at your events:
Determine your budget and let them know how much you can spend on A/V. Their name and reputation are on the line as much as yours. They want your event to succeed.


Investing in good A/V is more important that the swag that will get thrown in the trash. If the mic doesn't work, your meeting's value and perception with your audience will plummet.


Bring in your A/V company early in the planning process. They can help you design your program or conference schedule to save on labor and provide breaks to avoid penalty, especially in union cities. The in-house a/v company isn't your only option, so be sure to negotiate the removal of the outside a/v fee clause in your venue contract.


Make sure there is enough time for set-up and tear down of your event. Work with the facility's sales team to block enough time and space for load-in and set up to make your event look good and run well.


Carefully review the quotes you receive and ask questions to clarify. Make sure it includes everything you need for your event and nothing you don't. Be sure you are making an apples-to-apples comparison of equipment when reviewing competitive quotes.


Get your labor quote in writing, especially if you are hosting your event in a union city.


Bonus tip - Feed the A/V crew a meal before your event starts and they will be eternally grateful. There is usually some downtime between their set-up time and the start of the event. Plan to have the hotel or venue feed the crew in a nearby room. That way they don't have to go out searching for food between the many hours they will be spending at your event during set-up, tear-down and production.
After my client events, I usually want to hug the whole a/v team for all their hard work. They are the behind-the-scenes heroes who keep the screens running and microphones from buzzing. Spending time and energy on these relationships goes a long way in your event's success.
Have another suggestion for showing the love to your a/v team? Share in the comments below!