01/13/2020
So You Want to Be an Event Planner
Advice and Insights for Entering the Hospitality Industry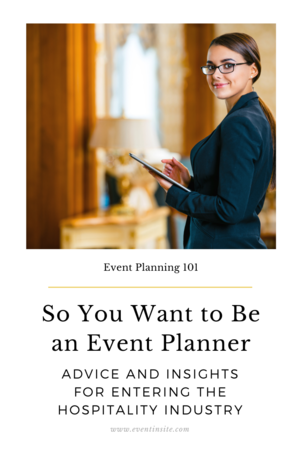 I'm often asked by students, recent grads, and acquaintances if I will meet with them and tell them how to get a job in the events industry. I'm a big believer in paying it forward, so I'm always willing to schedule a time to sit down with them over a cup of coffee and share my story. Here is a little bit of what I share:
There is more to planning meetings and events than weddings. Event professionals typically fall into a few different categories:
Corporate planners work for a large corporation and plan meetings for their employees. This could also include incentive trips or training sessions. Attendance is often mandatory or earned, so marketing the meeting isn't as essential, and those that attend don't typically pay a registration fee.


Association planners work with groups of people with a similar interest, usually around an industry (like agriculture or manufacturing) or vocation (like funeral directors or dog walkers). Attendance is optional, so marketing the educational components and attracting attendees is often part of the scope of work for the planner. Attendees pay a fee to attend and there is usually a networking component as well as a buying and selling opportunity between decision-makers (association executives) and those selling a product (vendors) that would benefit their organization. The annual conference is often a major source of revenue for the association.


Government planners work for a local, state or federal agency and plan conferences or training for those entities. Attendance is typically mandatory for that specific agency and budgets for the events are small and highly regulated. (Think: Bring your own coffee and lunch on your own)


Social Event Planners can focus on a specific type of event – like weddings, bar/bat mitzvahs, birthday parties, anniversaries, baby showers, etc. They are paid a fee either by the hour or a flat rate by the host of the event.


Independent or Third-Party Planners work with multiple clients on their events, and usually develop a niche for the types of meetings or clients they work with (medical meetings, product launches, etc.) They are also paid by the hour or a flat fee negotiated with the client.
It is not glamorous work. Instagram is full of beautiful parties and lavish décor, but most events aren't like that, and if you are in charge of the event or part of the team, you are not having fun AT the event. You'll be crawling around on the floor to plug things in, dealing with lots and lots of boxes, sweating, stressing, and looking forward to putting your feet up. Event planning often makes the top ten list for most stressful jobs in the US.
Customer Service is key. It's called the hospitality industry for a reason. You'll be working with people – lots of different personalities and backgrounds. Learn how to anticipate the needs of your attendees and be able to solve their problem quickly, efficiently and with a smile.
Here are some final thoughts as you journey through your career path:
Get experience and a peek behind-the-scenes by volunteering at community events (check with your local convention and visitors bureau) or at your favorite non-profit's fundraiser.
Be willing to work hard with a positive attitude will get you one step closer to your career in the hospitality industry.
Relationships are everything. The people you meet and connections you make WILL open doors for you down the road if they have a positive experience with you from the get-go.
It's a great industry with amazing people who love their jobs and the service they provide. We'd love to have you in our community!
What tips do you have for those entering the industry? Share in the comments below!